About Me


If your a dealer and have a catalog or newsletter relating to Scripophily, please sign me up. If you not a dealer but are looking to sell some items, please email me. Thanks.



I've always been interested in the economic history of the United States, especially the industrial revolution. Of particular interest to me are companies from the Blackstone Valley, the region of northern Rhode Island and southern Massachusetts in which I live. It is here you'll find Slater Mill, the first producing water powered cotton spinning mill in the country. As you may recall for grade school, the success of Slater Mill launched the industrial revolution. Soon after, many more mills where built in the Valley, most along the Blackstone river and it's tributaries.

About 12 years ago I got into collecting stock certificates as a way to learn more about these Mills. Unable to find much material, I expanded my collection to include all 19 century Massachusetts companies in the textile industry. Talk about boring. In general, old textile stocks are quit plain and again, there still wasn't much material to collect. So a expanded the collection once more to include the canals, shipping companies and railroads that supported the textile industry. Soon I found that I liked the collecting as much as the research. I had officially become a Scripophile. Now I collect any stock from New England, as long as it was issued before the crash of 1929.

I began to display a few of my better looking pieces in my home and office. Of course, most people have never heard of Scripophily and when framed as artwork, these certificates became quit a conversation starter. So I expanded my collection once again to include any highly decorative piece, purchased solely to be framed and displayed.

That's my story. Now here's the first mill stock I every purchased.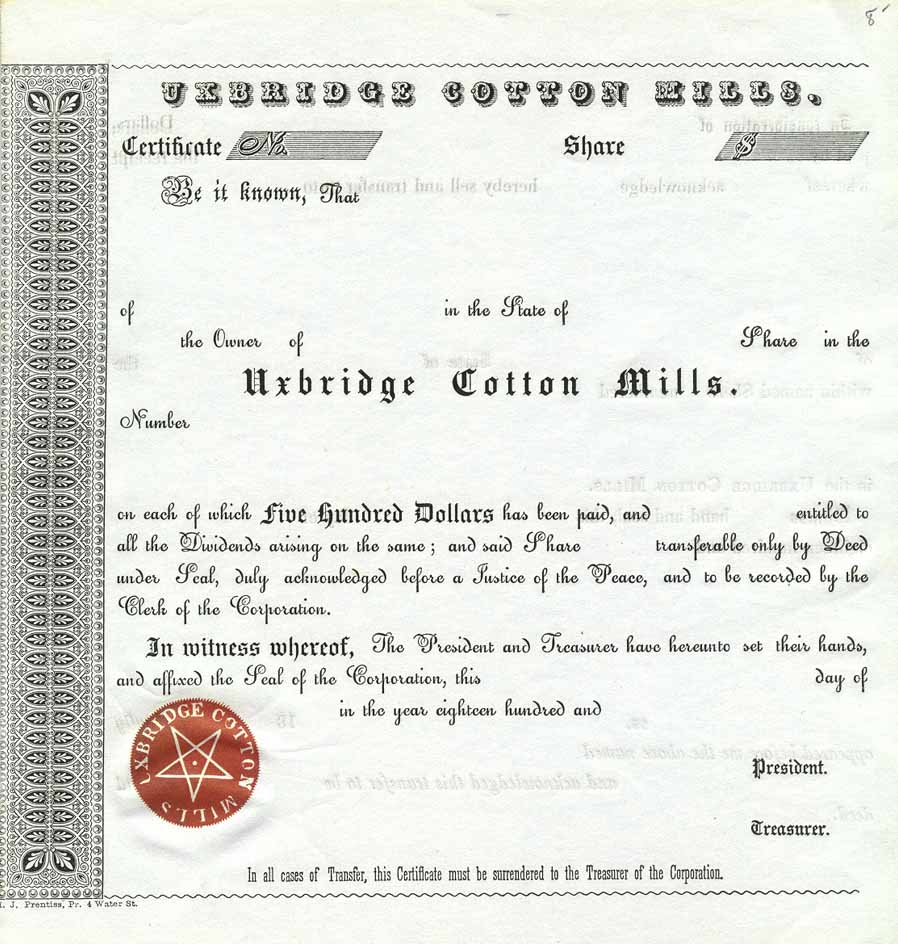 As you can see, it cost me $8. Was it worth it?...probably not.


So how did you get started collecting stocks and bonds? Please send your story to grose@certificatecollector.com. I may include it in an upcoming newsletter.