Company



Western Railroad Corporation. Charted in 1833 to develop a line from Worcester to western Massachusetts. Began operations to Springfield in 1841. Merged with the Boston & Worcester Railroad to form the Boston and Albany Railroad in 1867.

The signature of Josiah Quincy exists on all these documents.

JOSIAH QUINCY, JR. (1802-1888). 11th Mayor of Boston from 1845-1849. Harvard Graduate in 1821. author of "Figures of the Past" (1882). One of the founding members on the Boston Public Library and donated heavily to that institution. Treasurer of the Western Railroad. As Mayor, finished the construction of a Municipal Water System in Boston, a project started by his father (Josiah Quincy), the 2nd mayor of Boston (1822-1823).

I have seen many stocks from this company offered where the seller mis-represents the signature as Josiah Quincy, the 2nd Mayor of Boston, President of Harvard and founder of Quincy Market. Although both Quincy's had remarkable lives and are notable figures of Boston's past, the Father was more accomplished than the son, and his signature is much more rare. If you wish to obtain the Father's signature, your best bet is to look for early Harvard diplomas.
Certificate(s)
Stock. Issued in 1846. #5133.
Score Card
Rarity
Industry
Beauty
Cross-Collectable
Importance
Age
6
8
4
7
4
8
Overall Value
5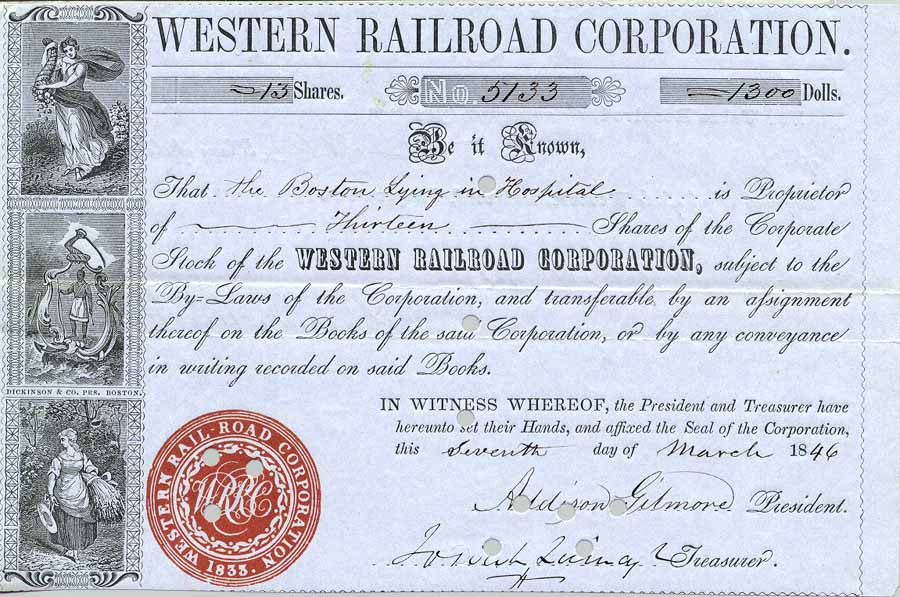 Stock. Issued in 1839. #1254.
Score Card
Rarity
Industry
Beauty
Cross-Collectable
Importance
Age
7
8
3
7
4
9
Overall Value
6
Bond. Issued in 1842. UK. #706.
Score Card
Rarity
Industry
Beauty
Cross-Collectable
Importance
Age
8
8
3
7
3
8
Overall Value
6