Company
Providence, Warren and Bristol Railroad Company. Originally called the Providence and Bristol, the railroad reorganized in 1852 as the Providence, Warren and Bristol. It opened a line in 1855 which ran between the 3 Rhode Island towns named in its title. Reorganized again in 1860, the Boston and Providence Railroad became the majority share holder. The company was leased to the Old Colony in 1891.
Certificate(s)
Stock. Issued in 1871. Rhode Island. #484.
Score Card
Rarity
Industry
Beauty
Cross-Collectable
Importance
Age
7
9
3
8
5
6
Overall Value
6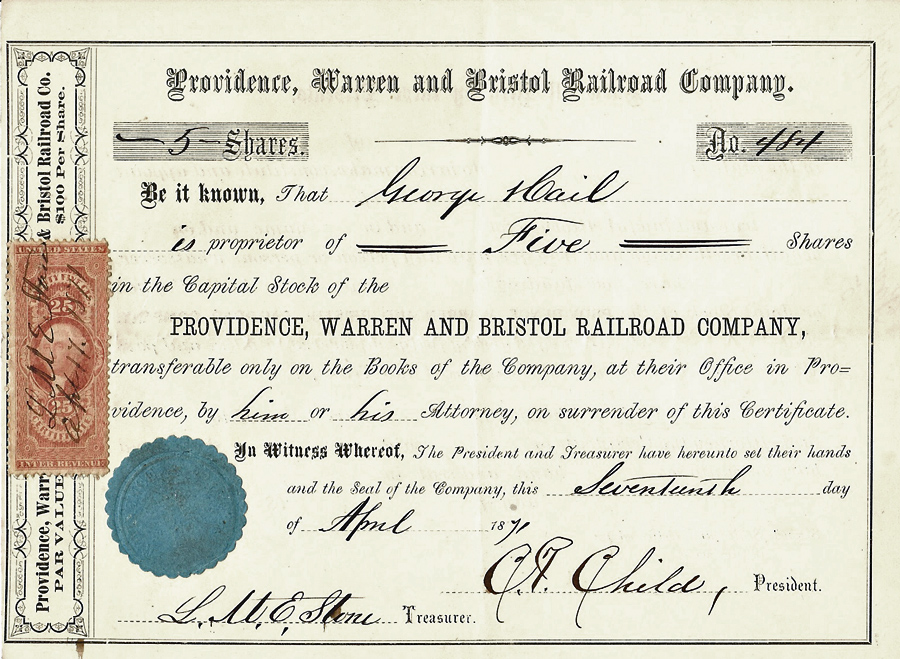 Preferred Stock. Issued in 1873 to the Boston and Providence Rail Road. #133. Represents 440 shares of only 1500 authorized.
Score Card
Rarity
Industry
Beauty
Cross-Collectable
Importance
Age
8
9
3
8
6
6
Overall Value
7