Company
West End Street Railway Company. Founded by Brookline developer Henry M. Whitney in 1886 to connect Boston and Brookline through large tracks of land he had been quietly acquiring on Beacon street. In 1887, he expanded the 8 mile line by buying the Metropolitan Railroad, South Boston Railroad, and the Boston Consolidated Street Railway and merging them in with the West End. Whitney was fascinated by the possibility of substituting electric-power for horsepower, and started the process of electrifying the streets of Boston in 1888. This became the foundation of Boston's trolly system that is still in use today. The build out of the grid, along with other issues, lead to financial difficulties for the West End Street Railway and all its assets where leased to the Boston Elevated Railway in 1897.
Certificate(s)
Stock. Issued in 1922. #40679.
Score Card
Rarity
Industry
Beauty
Cross-Collectable
Importance
Age
4
8
4
7
5
3
Overall Value
3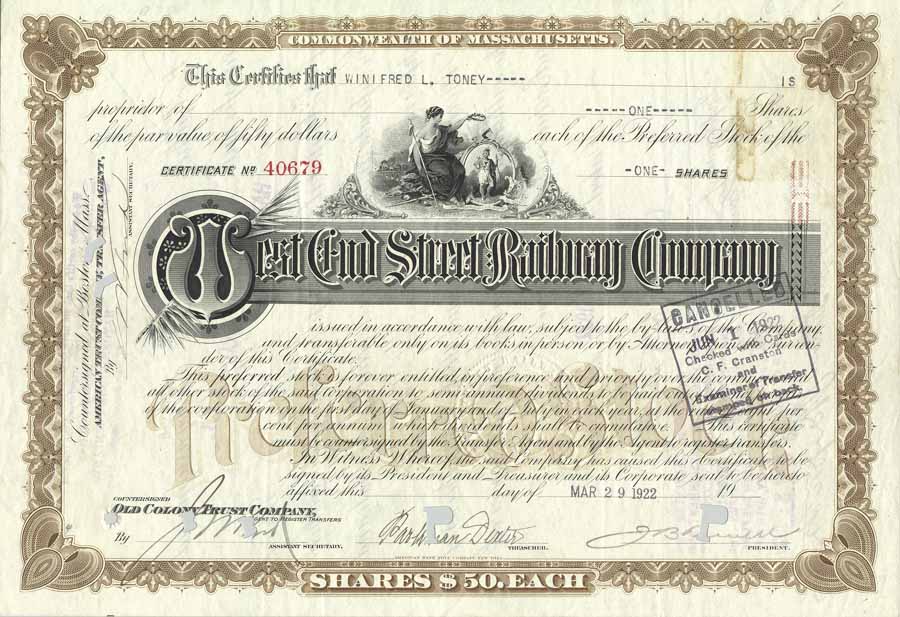 Bond. $1000. Unissued. #A480.
Score Card
Rarity
Industry
Beauty
Cross-Collectable
Importance
Age
8
8
6
7
1
4
Overall Value
2