Company
American League Professional Football Team of Boston. Owners of the New England Patriots. Two time Superbowl champs for seasons 2001 and 2003.
When William Sullivan was awarded the eighth and final franchise of the new American League in November 1959, the Boston Patriots where born. The first season was played on Boston University field (1960). In 1963 the team moved to Fenway Park, home of the Red Sox. Before settling in Foxboro in 1971, the Boston Patriots also played in Harvard Stadium, Boston College Alumni Stadium, and in 1968, Legion Field in Birmingham Al. With the move to Foxboro, the team was renamed The New England Patriots and the rest is history.
In 1960 the team had a public stock offering of 120,000 shares at $4.75/share. When the AFL merged with the NFL in 1970, Sullivan bought back all outstanding shares at $25/share. Almost, but not all, certificates where returned.
The Patriots where the only AFL team to have a stock offering. The Green Bay Packers are the only other team that has stock certificates available. The NFL had banned such issues in 1960 and Green Bay was the only NFL team to make an offering before that time. However, the Packers never recalled those shares and certificates are much easier to find that those of the Patriots.
Certificate(s)
Stock. Issued in 1960. #4434. 10 Shares. The vignette is the colorful mascot of the Patriots that was used from 1960-1992, affectionately called Pat Patriot.
Score Card
Rarity
Industry
Beauty
Cross-Collectable
Importance
Age
9
10
8
10
5
1
Overall Value
9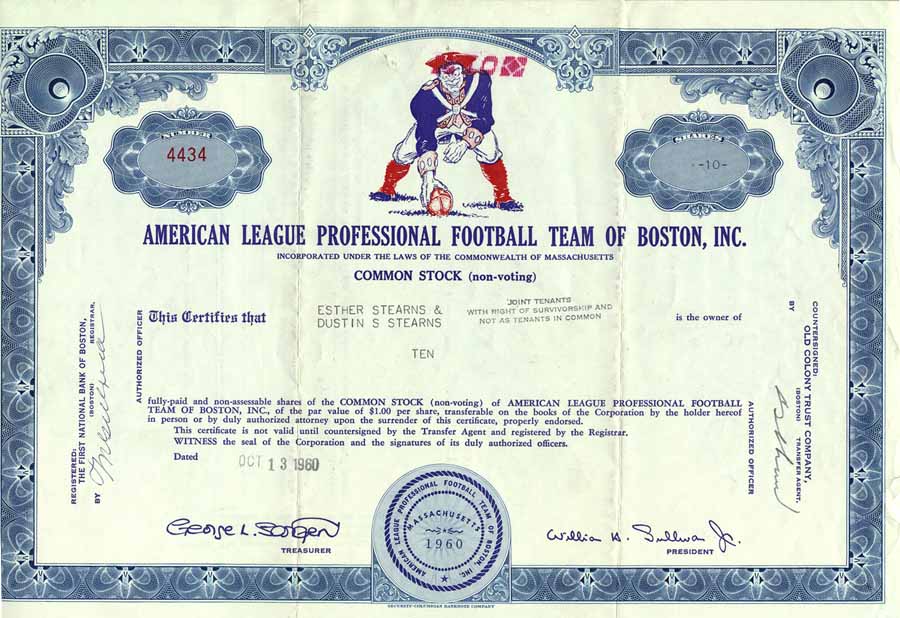 As a Patriot fan, this ranks as one of my favorite certificates. I'm especially fond of the old logo, Pat Patriot. I remember sitting in the stands in 1993 when the new Mascot walked over to the crowd and was roundly greeted with "Bring back Pat!....Bring back Pat!...Bring back Pat!".
For many good reasons, its usually cheaper to buy certificates from an online auction than it would be to buy the same certificate from a major auction house. However, a piece like this one is the exception. I bought this from a major New York auctioneer (you know the one) and it cost much less than it would have on Ebay. After all, how many Patriots fan's where likely to be in an auction room in Pennsylvania in the middle of a snow storm?
For more Boston Patriots information, check out this families collection: http://www.conigliofamily.com/Patriots.htm