Company
Grand Junction Rail Road and Depot Company.
Certificate(s)
Bond. $1000. Issued in 1852. #139. Much more difficult to find than the 1853 bond. Not as ornate, however.
Score Card
Rarity
Industry
Beauty
Cross-Collectable
Importance
Age
8
8
3
7
3
7
Overall Value
6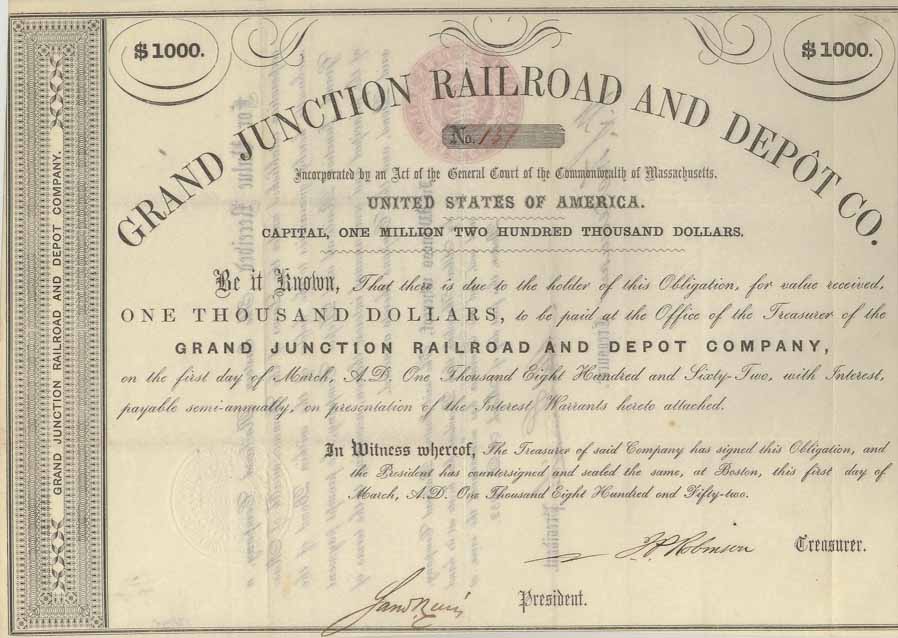 Bond. $1000. Issued in 1853. #25. 400 where issued. While 400 seems like a small number, it's enough to keep this bond in the hands of enough dealers that the price remains relativity low for its quality...at least for now. That means you still pick it up for cheap if you keep your eyes open. I suggest doing just that if you find it for less than $100 or so. Its the kind of piece that will eventually become scarce and desirable.
Score Card
Rarity
Industry
Beauty
Cross-Collectable
Importance
Age
6
8
7
7
4
7
Overall Value
6