Company
Essex Company. The company received its charter in 1845 for the purpose of building a dam over the Merrimack and developing water power. Prior to incorporation, the founding group of investors called themselves the "Merrimack Water-Power Association". The association had been purchasing land on both sides of the Merrimack river based on survey data, both their own as well as that of a local manufacturer, Daniel Saunders, that suggested the strong water flows would be harness-able. The company immediatly designed and built the Great Stone Dam across the Merrimack at Bodwell's Falls, giving the company control over an abundant supply of waterpower and in turn prepared the area for rapid industrial expansion as the industrial revolution kicked into high gear. In addition to the dam, the Company constructed two canals, a reservoir, fifty brick buildings, a boarding house, a locomotive machine shop, and a number of textile plants, all within 3 years. They also organized gas works, banks and other commercial enterprises. On the same day the company charter was established, the town Lawrence received its incorporation, although its didn't become effective until 1847. As the towns major land holder, the Essex Company designed it from scratch. In addition to the industrial components, they layed out the streets, churches and zones for workers. There were a number of important figures associated with the Essex Company. The 2 most important where Abbott Lawrence, the leader of the investor group for whom the town was named, and Charles S. Storrow, who designed the city as well as the dam.
Certificate(s)
Stock Assessment. Issued in 1847. Signed by Charles S. Storrow as Treasurer.
Charles S. Storrow. (1809-1904). Graduated Harvard in 1829. Worked as a Construction engineer for the Boston and Lowell Railroad before joining the Essex Company. As chief engineer of that firm, he designed the layout for the city of Lawrence and the Great Stone Dam that fueled the cities textile industry. Started, ran or was a Director in many of the local banking and textile businesses. His banking interests included the Essex Savings Bank, founded in 1847. This bank later became the First Essex Savings Bank under which name it remained until just recently, when it was acquired by Sovereign Bank.
Score Card
Rarity
Industry
Beauty
Cross-Collectable
Importance
Age
9
6
2
4
5
8
Overall Value
5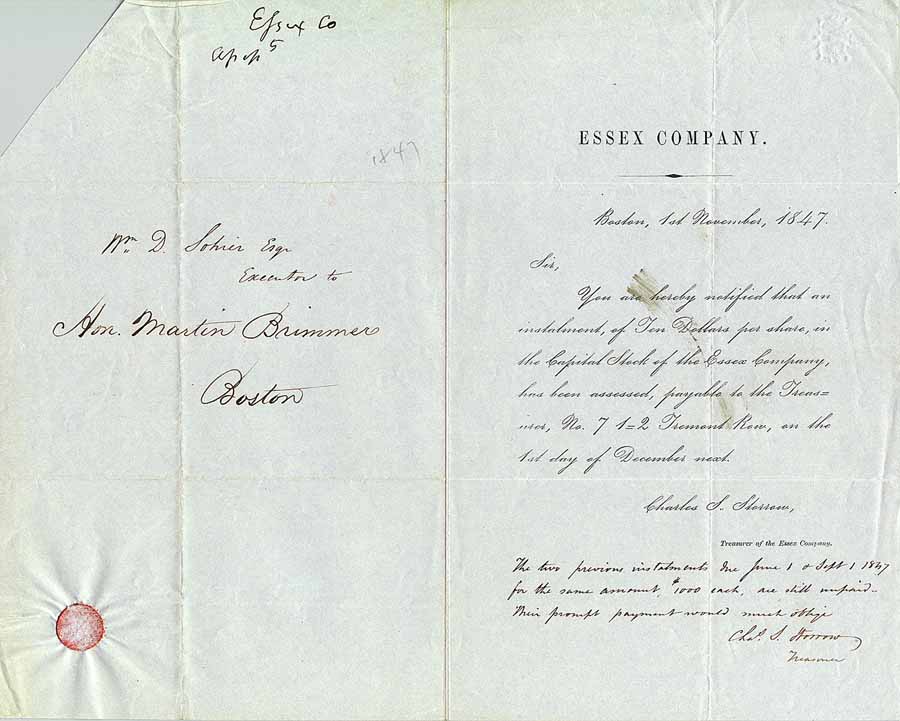 Stock Receipt. Issued in 1845. Signed by Charles S. Storrow as Treasurer.
Score Card
Rarity
Industry
Beauty
Cross-Collectable
Importance
Age
9
6
3
4
5
8
Overall Value
5