Company
The Boston, Hartford and Erie Rail Road Company. Incorporated by a group of Boston investors with the intention of connecting the Erie RR and Hudson River with Boston and Hartford. The plan was to build 77 miles of line between Waterbury Ct and the Hudson and another 26 miles from Putnam CT. to Willimantic CT and link those with various other railroads they would lease or buy.
Millions of dollars where raised. Some of its purchases include the Boston and New York Central in 1863 and the New York and Boston Railroad Company in 1865 but very little new rail was built. Most of the company treasury was looted by its owners.
The Boston, Hartford and Erie also played a role in one of the most interesting railroad business transactions of all time, Commodore Vanderbilt's attempted take over of the Erie Railroad from Daniel Drew. The Boston management of the BHE conspired with Vanderbilt only to be betrayed by him in the end. Books have been written about this so I'll not attempt to describe it here.
A bankrupt Boston, Hartford and Erie went into receivership in 1870. It 1875, it emerged as the New York and New England Railroad, a company its bond holders had established in 1873.
Certificate(s)
Bond. $1000. 7%. Issued in 1868.
Score Card
Rarity
Industry
Beauty
Cross-Collectable
Importance
Age
3
8
7
7
6
7
Overall Value
3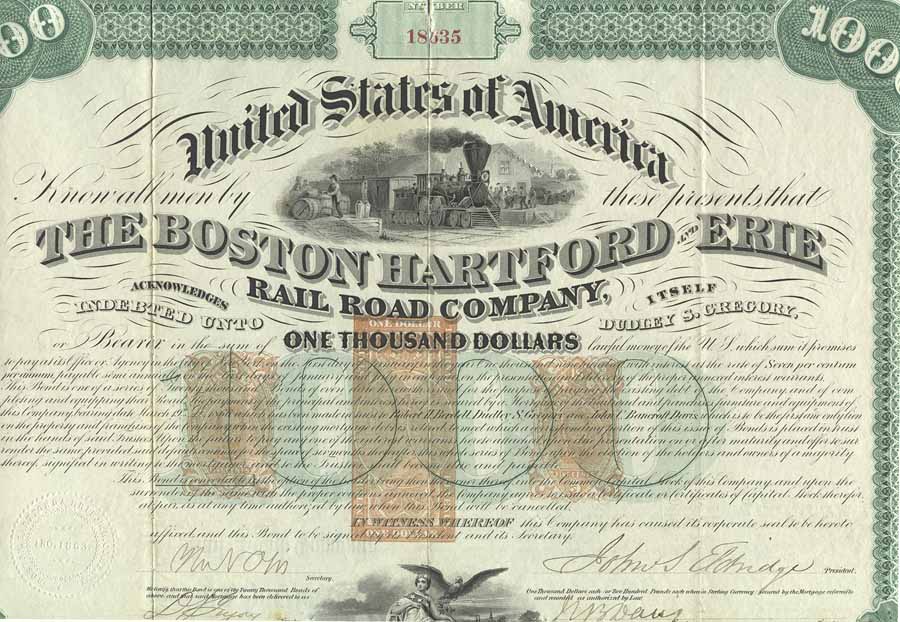 Stock. Unissued.
Score Card
Rarity
Industry
Beauty
Cross-Collectable
Importance
Age
6
8
4
6
1
7
Overall Value
1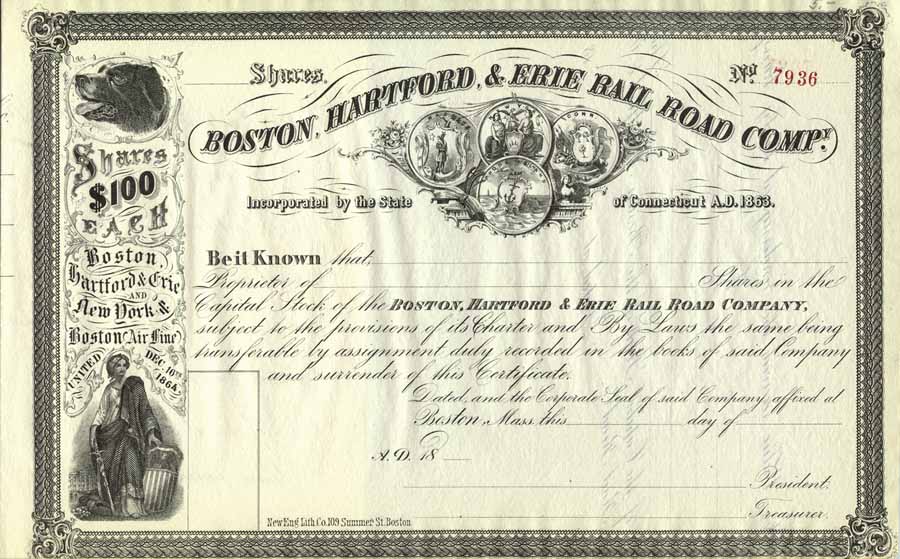 Shares. Issued in 1880. #B25
Score Card
Rarity
Industry
Beauty
Cross-Collectable
Importance
Age
8
8
7
7
7
7
Overall Value
7