Company
Boott Cotton Mills. The Boott Cotton Mills, located in Lowell, Massachusetts, was incorporated in 1835 by Abbott Lawrence, John Amory Lowell and Nathan Appleton for the purpose of producing "drillings, sheetings, shirtings, linens, fancy dress goods, and yarns." Between 1836 and 1839, four mill buildings were built along the Merrimack River, each operating independently from the other. A three-story counting house located in front of the mills housed the administrative and accounting functions. The complex grew in 1846-1847 with the addition of a fifth mill. A central picker house was added in 1860 and a cotton storehouse in 1865. Mill #6, built in 1871-72, not only contained carding, spinning and weaving machinery, it included a blacksmith shop, a large machine shop, a paint shop and carpenter shop.
By the 1870s, Boott Cotton Mills shifted to a variety and order mill with the six mills working as a unified plant. At the same time, management made the decision to increase production, keep pay rates low and avoid re-investment in plant and equipment. The increased production helped maintain profits and dividends, but ultimately working conditions and wages declined while buildings and machinery became obsolete. After 1880, when the South became increasingly competitive with the long-established northern textile mill industry, this corporate policy proved unwise. However, throughout the 1880s and 1890s, the Boott paid consistent dividends and its stock price remained high.
Long-term neglect of plant and labor proved the undoing of Boott Cotton Mills for a time. In February 1905, the mill closed and the corporation ceased with stockholders, dominated by the current generation of directors, selling the plant and its assets for $300,000 to a group of investors from Lowell and Boston. Renamed Boott Mill, this new company reorganized management and production, invested in new equipment and retrained workers. This markedly different way of doing business allowed the company to successfully withstand the economic necessities of two world wars and the depression years. However, the bad market and big inventories which existed for cotton textiles during the early 1950s hastened the end of many mill operations in the northeast. Boott Mill became one of the casualties, and in 1955, it closed after one hundred and twenty years of operation.
The complex still exists and includes the Boott Cotton Mills Museum.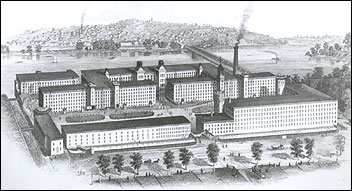 Certificate(s)
Stock. Issued in 1897. #2857. Signed by Augustus Lowell as President.
Augustus Lowell, grand son of John Lowell, was a major benefactor and trusty of the Lowell Institute.
Score Card
Rarity
Industry
Beauty
Cross-Collectable
Importance
Age
6
6
6
5
3
3
Overall Value
4