Company
American Watch Tool Company. The American Watch Tool Company was formed by former employees of the Waltham Watch Co including John Whitcomb. Lathe production began in 1872. In 1876 Ambrose Webster joined the partnership and together they produced the now famous WW lathe (Webster-Whitcomb). They incorporated in 1894. The company was located on Elm Street in Waltham and went out of business in 1918. In 1989, the building they occupied was listed in the national register of historic places (reg no: 89001574).
For a great photo of Lathe produced by the company, visit The National Watch and Clock Museum.
Certificate(s)

Stock. Issued in 1904. #87.

Score Card
Rarity
Industry
Beauty
Cross-Collectable
Importance
Age
7
7
4
6
6
4
Overall Value
5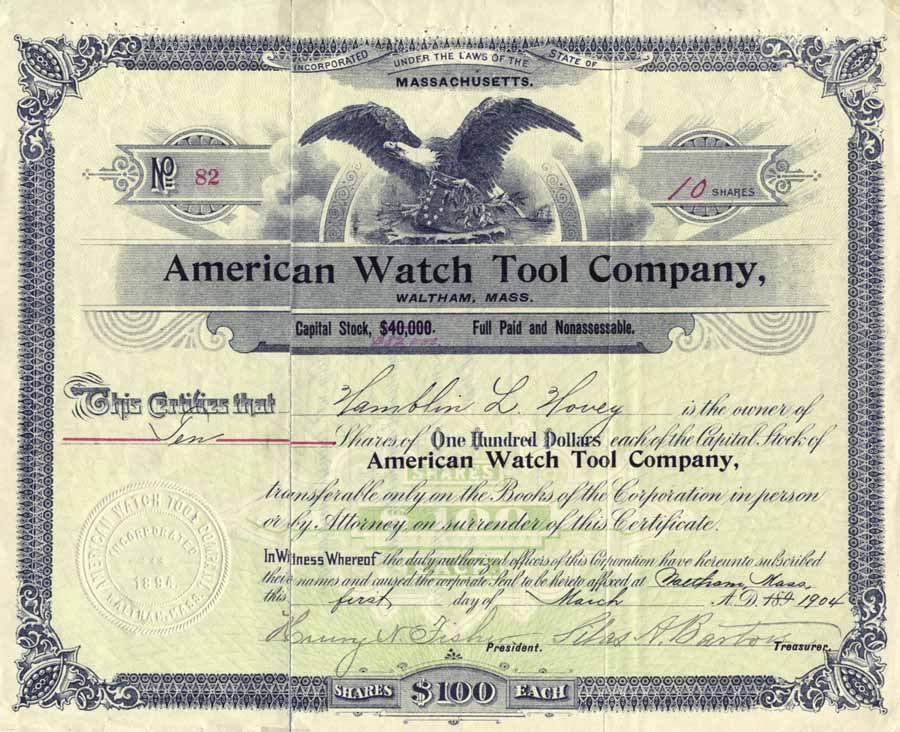 Normally, this would have to be considered a excellent find. This company was very important in the watch making industry, both in America and England. Unfortunately, this example has a major tear along almost the entire left fold. Making matters worse is that some moron used scotch tape to hold it together.